WHO WE ARE
Bring home a little bit of the Menz Club barbershop experience.
Menz Club has been in the barbering and men's hairstyling business since 2015 in the Quebec City area. Yup, in Canada. Where the True North spirit and men live up to their cool, authentic nature. "Men talk to us when they're in our chairs getting groomed," says Ophélia. You've told us what you want when it comes to your look, your hair, your beard, your face.

So we listened. And we did our homework.
Now we've gone one step further by creating our very own bespoke line of hair care and grooming products. We spent months working with our in-house chemist on developing our exclusive vegan and eco-friendly formulas. Our products are never tested on animals. Only on our clients.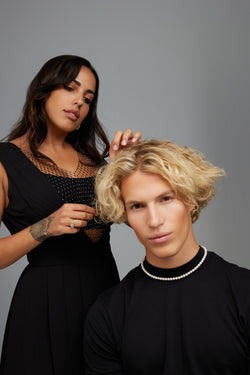 THe owner
"Can't stop, won't stop". Her goal is to share that mindset through Menz Club products.


Ophélia-Anna Nagar, Menz Club's founder, is a visionary creator who is passionate about one thing: barbering and all the products and culture that go with it.
She has created growing brand recognition with her Menz Club barbershops.


An accomplished hairstylist, she has built her entire career on showcasing the latest and best haircutting and barbering techniques through her renowned training seminars in the professional beauty industry across Canada. The time was right for her to expand the Menz Club brand by offering exclusive specialty products featuring highly performing active natural ingredients. Made locally.


An innovator and a risk taker, Ophélia has all the qualities of a real #girlboss.
TIME LINE
OUR BELIEF
FEELING GOOD
At Menz Club, we firmly believe that beauty is a state of mind. Plus, it's relative. It's like they say: beauty is in the eye of the beholder. (But we also know that it sure is nice to please as many beholders as possible.) And the first step to looking good, is feeling good. Which is exactly what Menz Club is here for. 
Just good products made by good people that serve as a good reminder that it's always good to feel good and look good.
Good?
Good.