Growth hacks your beard with our two-step kit that stimulates the thickening and strengthening of your facial hair. 
Regular price
$74.99
Sale price
$69.99
Unit price
per
Sale
Sold out
Results

Beard more thick
Features

Naturals ingredients
Sulfate-free, paraben-free, palm oil-free men's cleansing gel
Vegan
Fragranced with eucalyptus
Cruelty-free
Approved by Health Canada
Born and raised in Quebec
Benefits

Wakes up your sleepy follicles
Helps draw nutrients and blood to the face
Help thicken the hair shaft
Make those new hairs be stronger
How to Use

After using the roller, apply serum evenly across your freshly washed face (using our face and beard cleanser, of course), then stand back and admire your manliness. 
secure payment

FAST DELIVERY
View full details
Barbe plus raide plus fournie
J'avais une barbe plus fine et moins épaisse en 4 semaines j'ai une barbe fournie avec des poils raides
Excellent produit
Super de bon produit je le recommande et je vais en acheter d autre c'est certain
Barbe plus fournie!
J'ai reçu mon kit pour la barbe il y a quelques semaines et je commence déjà à voir une différence! Avec le rouleau désinfecté, je roule doucement en quadrillé plusieurs fois au niveau de la barbe afin de faire des micros perforations pour bien laisser agir le serum. Je le fais une fois au deux jours pour ne pas abîmer ma peau. Mon visage est toujours propre avant l'utilisation. Le serum en soit stimule et renforcit les nouveaux poils. J'adore ce produit et je recommande fortement à ceux qui manque de pilosité au visage!
Le helper à barbe
J'ai commencé à utiliser le " baby face killer " sur ma barbe il y a exactement 1 mois et demi. Les résultats sont incroyable ! Ma barbe est beaucoup plus volumineuse et la texture du poils à légèrement changé. Pour quelqu'un qui a une barbe clairsemée, c'est le produit par excellence à essayer, je le recommande à coup sûr ! Merci à l'équipe du Menz Club pour la découverte de ce bon produit.
STEP BY STEP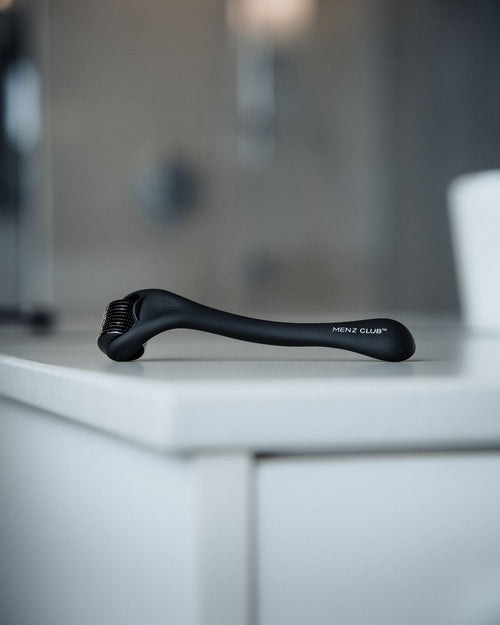 STEP 1
Use the disinfecting roller on your skin 2 to 3 times a week with T-shaped movements.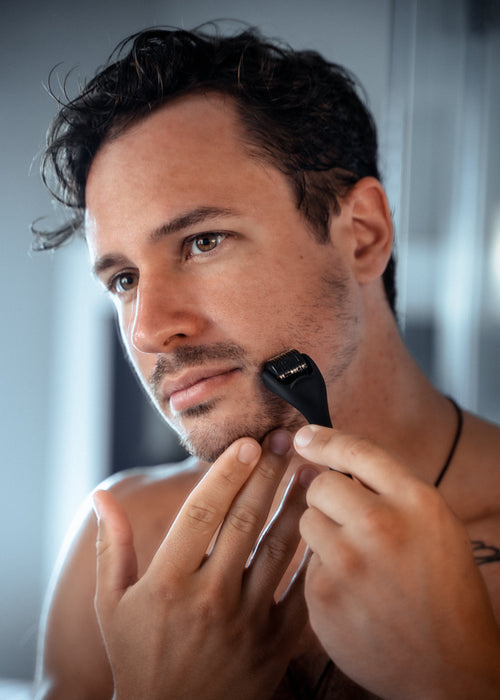 STEP 2
Apply serum evenly across your freshly washed face (using our face and beard cleanser, of course).
HOW IT WORKS?
1.
THE ROLLER
Our painless microneedling roller wakes up your sleepy follicles and helps draw nutrients and blood to the face, prepping it for the serum.
2.
THE SERUM
Our naturally-derived serum made with biotin, capilia longa and castor oil strengthens your hair's protein and promotes thickness. Together, the regeneration of natural proteins, such as collagen and tissue, help thicken the hair shaft and make those new hairs be stronger!
FAQ'S
HOW LONG DOES IT TAKE TO SEE THE RESULTS?
In general, men start to see new fine hairs grow after 6-8 weeks of constant use of the complete kit, in addition to seeing the existing hairs thicken. It is very important to know that your beard will not grow overnight. The goal is to strengthen your existing hairs and stimulate new growth, for a more uniform and fuller beard.
HOW MANY TIMES A DAY SHOULD I USE THE KIT TO GROW A BEARD?
For maximum results, the Serum should be applied once a day on clean skin. Use 2 pumps, after cleaning face with our facial cleansing gel. We recommend using the Roller 3 times a week to speed up the process. The Roller must be cleaned and disinfected before each use.
IS IT NORMAL TO FEEL A TINGLING SENSATION AFTER USING IT?
The tingling effect is normal since the Serum activates the blood circulation. It is a good sign. However, the effect is light. If you feel burning, extreme redness or inflammation, this is not normal. You should stop using it immediately.